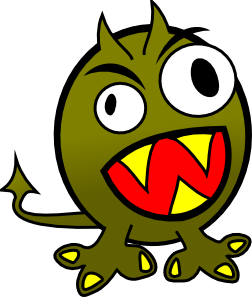 Rashes were the main reason we switched from disposables to cloth diapers. While they weren't as bad, even in cloth diapers we still dealt with teething rashes and heat rashes. So, I felt I was pretty experienced in how to effectively manage diaper rashes...until the yeast rash.
I had noticed little man's bottom turning red in a couple spots, so the hubs and I would apply some CD friendly creams and go about our merry little ways. But, it didn't go away. In fact, it started to look a little bit worse after a day or two. The thought that it might be a yeast rash hadn't even crossed my mind, so we started putting some cornstarch based powder on little man at each diaper change. BIG mistake!
Cornstarch actually feeds yeast infections and can make the whole situation worse. I knew that, but like I said earlier, it had never once crossed my mind that it could be yeast, until the next morning. Little man had a small blister-like sore on his bottom. Luckily, we were already going to the doctor that morning for his 18 month check up. She confirmed that it was yeast and gave us a prescription cream.
When we got home, I did some quick online research about yeast rashes and cloth diapers. I wanted to know how to get rid of the yeast and keep it away. While there were many different methods, the three most common treatments for yeast were bleach, tea tree oil (TTO), and vinegar.
While little man wore cloth diapers with disposable liners for a week, I began disinfecting the (already clean) diapers, pail liners, wet bags, and wipes with the following routine:
Cold rinse with 10-15 drops of TTO
Hot wash with 1/4 cup bleach
Cold rinse with 1 cup apple cider vinegar
One more hot wash/cold rinse cycle without any additives
Dry on high setting (if it was nice outside, I would've sunned the diapers)
Yeah, I realize that might have been a bit of an overkill, but I read about some people having continuous yeast issues after just using one or two of those methods. I figured this wasn't a time to experiment so I combined all three methods.
Before I go any further, I want to remind you that I'm no chemist and what works for me, might not work for you and vice verse. Now...back to the article.
Here's the deal with vinegar - I have heard so many conflicting stories about whether or not to use vinegar with cloth diapers. After tons of research, I've found that white vinegar may be the vinegar that causes the problems. Did you know it can actually
contribute to yeast
? Apple cider vinegar is the only type I have found that is almost universally recommended to kill yeast. I've continued using it by adding 1/4 to 1/2 cup to the rinse cycle for all of our clothes, including the diapers.
While I obviously can't tell you if it was the combination of everything I did or just one of those components that helped combat the yeast, we haven't seen that dreaded monster around for almost a month. So, something must have worked!
Here are some other ideas for dealing with yeast from some I Heart Fluff fans:
Let your little one be diaper free as much as possible.
Soaks in warm water and Epsom salt.
One fan developed her own Healing Butter that can be found at Snuggli Bebe.
Empty an Acidophilus capsule into your child's milk or directly on the rash.
Another fan made a cream using mango butter and TTO and applied it to the rash.
CJ's BUTTer for yeast is what worked for other fans.
If you suspect your child has a yeast infection, please visit with your doctor before trying any of the above methods. Often, you will need to use a prescribed cream as well as disinfecting your diapers.